I'm officially on summer break now, or as I call it, "Retirement 2.0".  While I'm supposedly enjoying my time off, I'm also cleaning out, organizing, and packing up the house. I'm not sure how successful the tasks are going so far, because my house still looks pretty much the same, but currently in my garage I have about thirty-two black and yellow large bins from Costco that are stacked four high and about four deep. Moving has been wonderfully cleansing so far, and I'm not even done yet.
While I'm at home, my husband Walt lives in Santa Barbara during the week. Often, I will get texts from him exploring new places, and I won't lie – I'm a little envious as I'm cleaning out the closet, packing up my office, or weeding in the backyard. This past Monday though, I got a very curious picture from him.
He had been wandering around State Street during lunch, and found himself in a record store. He is apparently far better trained than I realized, because he immediately looked for any DD vinyl. When that didn't pan out (I already have everything they had in stock), he looked at their CD's and DVD's. Hitting the jackpot, he texted me this picture: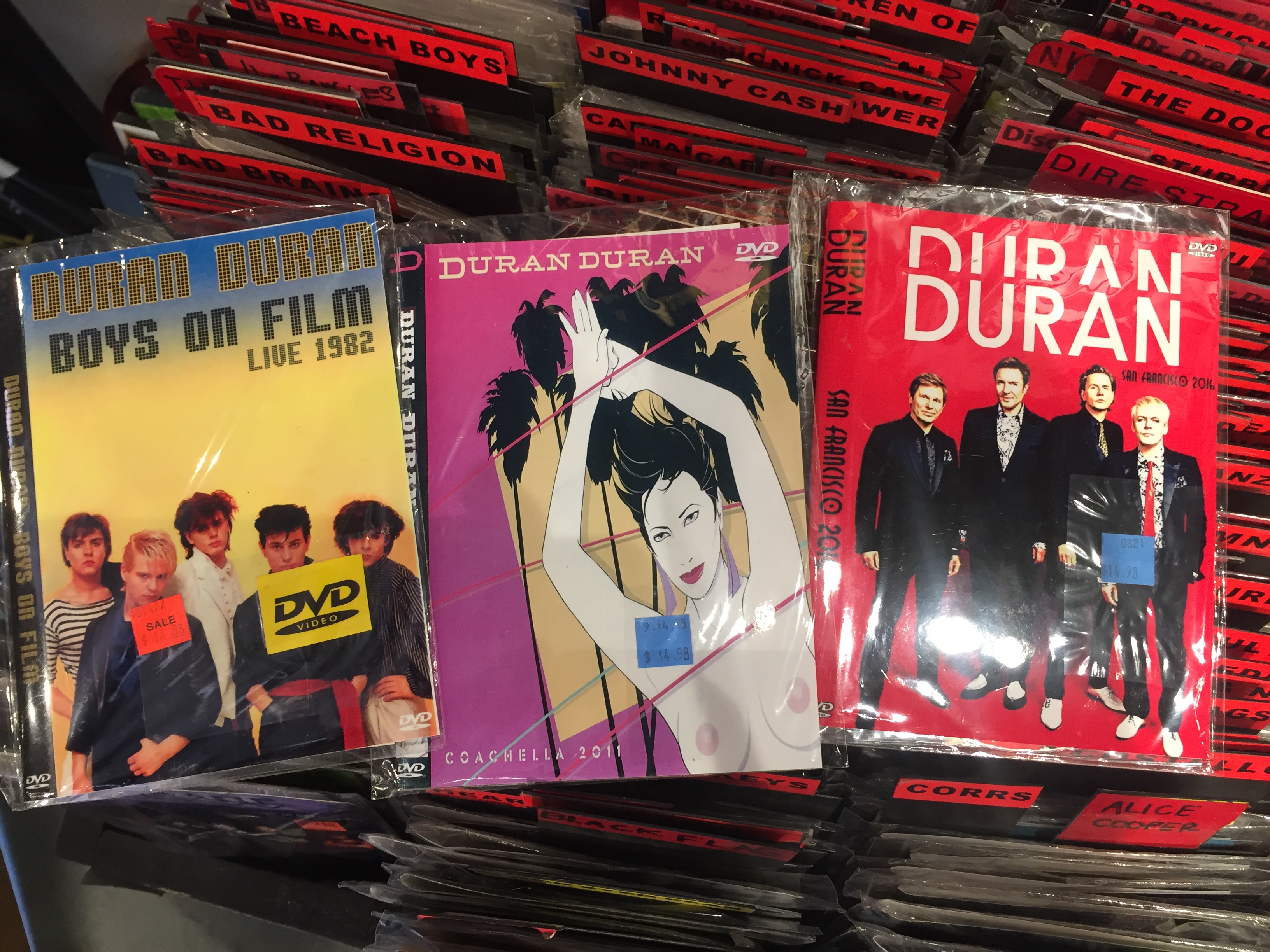 Now, curiously enough, I didn't recognize these DVD's. Upon closer inspection, Boys on Film was filmed from an MTV appearance at New Year's Eve Rock and Roll Ball at the Palladium in NYC 1982 (12/31/82). Then there's Duran Duran Coachella, filmed in 2011. Lastly, there is Duran Duran San Francisco 2016, which was filmed at the Outside Lands Music and Arts Festival. All of them must be bootlegs.
I didn't ask, but Walt dutifully bought all of them anyway. They all have varying copyrights and addresses – two of them are archives (one says The Archivists Society and the other is Duran Archives, each has a different UK address), and the other is from Duran Films in New York City. I haven't watched them yet (that is today's assignment), but I can hardly wait to see the quality of what I am fully expecting to be shoddy iPhone video. We will see.
It turns out that only after he'd already bought these, he saw even more of these DD concert bootlegs for sale. It's almost unnerving. I mean, Duran Duran has no control over what is being filmed and later sold, and naturally – none if this is new or even news. I just haven't seen so much of it gathered in one actual brick and mortar store before. (I don't get out much, apparently!)
He also picked up a CD for me, which might even be worse than the DVD's. It's called Duran Duran Ultra Rare Trax.  Let me just say, the trax are not rare…and the only thing "ultra" going on here are the ultra-tacky descriptions of the songs compiled on this clearly homemade CD.  Below is just a sampling of the titles and descriptions:
Notorious (Disconet): Title track from their 1986 LP. Pushed forward their chic influences to the fore. Cutting funk guitars and slap bass supply the backdrop to a fine Disconet Mix.
I Don't Want Your Love (Prime Cuts): The Prime Cuts people get to work on this Duran Favourite, with its excellent back track it rolls on and over. Another Prime Cut.
Save A Prayer (DMC): A nice up-tempo dance version of this usually classic ballad. The Earliest Duran number we could find a dance version of.         (I don't think they looked very hard, just saying.)
A View to a Kill (Art of Mix) 007 meets POP! Duran go big screen. A great track given the Art of Noise treatment.
Duran (Megamix) The first time ever DMC mix available for the first time on CD format. Previously a cassette 1984 release. Coupling together some Duran classics – Is There Something I Should know, Planet Earth, Girls on Film, Rio, among others.
It goes on from there. Writing is clearly not this bootlegger's forte. I can hardly wait to listen, though.
I'm not one to encourage bootlegging, but I have to admit I'm more than a little amused to sit down and watch some fairly recent Duran Duran shows. I can't think of a better way to spend my break – particularly since the alternative involves more packing!
Is there a place for bootlegs in the industry? On one hand, the band seems to have no control over what is filmed and sold – and the economic impact to them is pretty clear. I mean, it is their music and their image, and it seems wrong that they shouldn't get some royalty from that. On the other though, there are people out there may actually want videos from shows they attended, or maybe even for those who can't get themselves to places in the world where the band has played.
What about unreleased music? I own Duran Goes Dutch, which is a fairly rare and collectible vinyl that isn't official at all. The music is rare because the songs are arranged very differently. The band didn't necessarily take advantage to press that vinyl, but someone else did. Fans like me have benefitted from being able to own the record. I've also read that bands, perhaps not Duran Duran – I really can't say, have bootlegged their own material at times because their label wouldn't commit resources to doing so for various reasons. It's a sticky situation, not nearly as black and white as it may seem, and I definitely am not claiming to know the ins and outs. The issue is certainly worthy of discussion.
I'm going to sit and think about all of this while I watch my new videos today!
-R