Anyone see this posted on Duran Duran's Facebook and Twitter this week?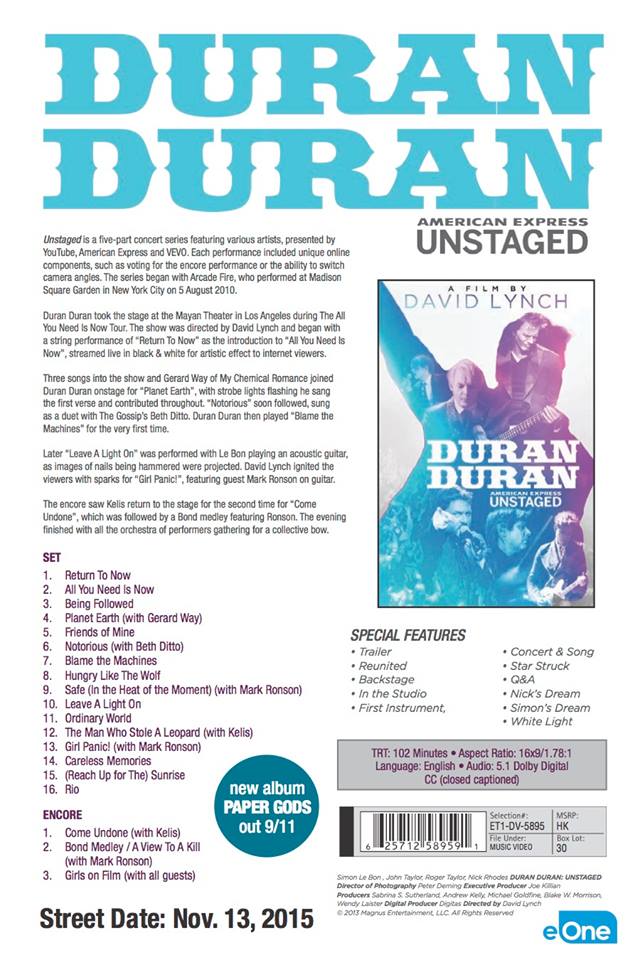 That's right.  Duran Duran's Unstaged will be coming out on DVD in less than 2 weeks in the United States and Canada!  To refresh everyone's memory, Unstaged was a film by David Lynch from a live concert that took place in Los Angeles in March 2011.  It wasn't quite a concert film but it wasn't quite something else either, but a combination of Duran Duran live with strange images and projections from the mind of David Lynch.  This DVD won't be exactly new footage as some of us (coughRhondacough) were there that night while others of us reviewed it from the YouTube stream.  (You can read about Rhonda's experience here and my review here.)  Unstaged was also shown in movie theaters as well, which many of us got to experience (read those reviews here and here.)  Despite having seen it streamed online and in a movie theater, I'm still pretty excited by this DVD release.  Why?  I'm excited to see how I view it now and I'm excited for those extras!
If you read my review in March of 2011, you can tell that I wasn't super thrilled with it.  I didn't know what to expect and it showed.  I found some of the images problematic and I missed just seeing the band perform live, which is more of what I expected based on other concert films.  Yet, when I went to see it in the theater, I knew what to expect and could really enjoy it more!  Yes, perhaps, my enjoyment increased due to seeing the band on the big screen!!  I have to admit that I have seen the band on the big screen three times (Live from London in November 2005, A Diamond in the Mind at Durandemonium in October 2013 and Unstaged) and each time has been REALLY awesome!  Is it seeing the band larger than life?  Is it being in a room with other fans?  A combination of both?  Maybe.  Thus, I'm interested to see how my reaction changes again after seeing it at home, in my own living room.
Of course, beyond seeing it for a third time, I'm pretty excited by those extras.  I'm always excited to see DVD extras.  According to the photo above, there are 11 extras.  Here is the list:
Trailer
Reunited
Backstage
In the Studio
First Instrument,
Concert & Song
Star Struck
Q&A
Nick s Dream
Simon s Dream
White Light
I suspect that we might have seen some, if not all of those.  I am also sure that many/most/all might be available on YouTube, but they aren't all listed together and I can't just watch all of them together.  Plus, I'm also confused by what I can find on YouTube.  For example, if I look up Duran Duran Unstaged Trailer, I find these videos and more.
Which trailer is the one on the DVD or will it be a completely new one to me?  I look forward to finding out!
I do wonder about a couple of things, though.  First, I wonder why it is being released on DVD vs. blu-ray.  I would have preferred to get it on blu-ray but I do understand that it might have been easier to produce on DVD for various reasons that are beyond my knowledge.  Second, I know that it has been released somewhere beyond North America but I can't remember exactly where.  Australia?  If you know, let me know!  I also wonder why it can't be released worldwide?!  I'm sure that there are lots of other fans who would love to own, just like I am!
What do the rest of you think?  Are you excited by this DVD release? Will you be ordering it, if you can?
-A