This morning, good ole Facebook reminded me of what I was doing and where I was six years ago today through the following picture: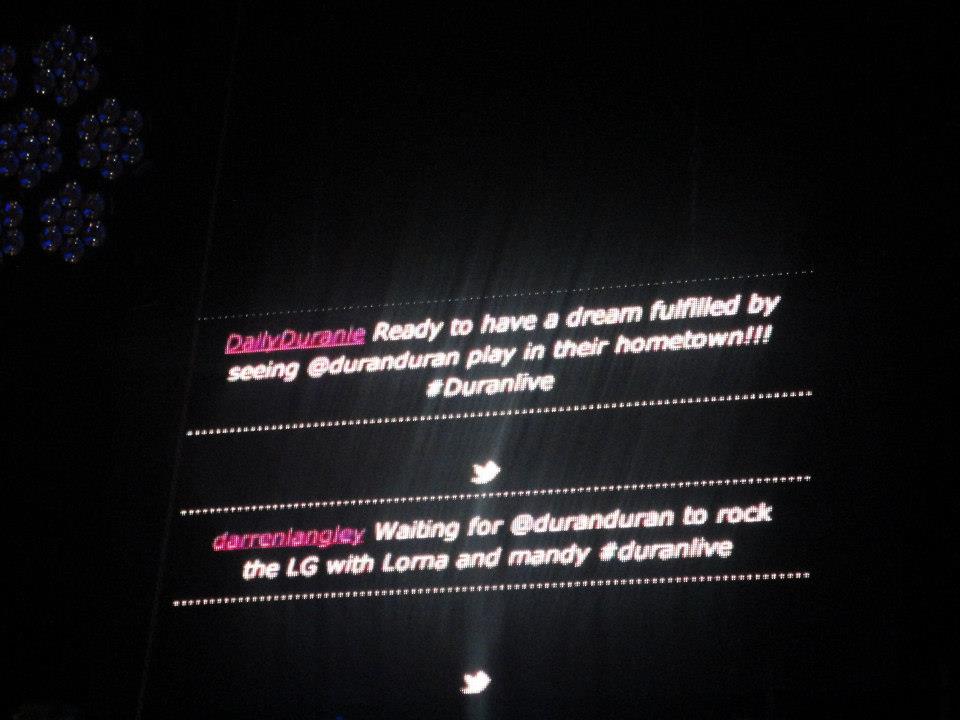 Yes, six years ago today, Rhonda and I were seeing Duran Duran play at the LG Arena in Birmingham, England.  Funny enough, every time I think about it, I have to pinch myself to remind me that this really did, indeed, happen.  Looking back at that show and that tour, two big ideas come to mind.  First, the phrase "all you need is now" pops up, the idea of just living in the moment.  Then, there is the significance of that trip and place for my personal fandom.
In 2011, we went to the UK twice.  Of course, the first trip, in May, did not go as planned to say the least.  Simon lost his voice and the shows we held tickets for were canceled.  We pushed through, made the best of the situation, and ignored the worry that we had seen the end of Duran.  Thus, when the shows were rescheduled, we didn't hesitate to jump at the chance to go back.  Looking back on that decision, I cannot remember pondering the decision very long.  I  didn't debate the pros and cons of doing another UK trip.  Normally, when shows are announced, I go through the internal checklist.  Is the date one in which I can attend?  If it is during the school year, can I take off?  Do I have the money to go?  Will someone be around to check in on the cat?  That time, though, those questions weren't really even asked.  We leaped before we looked, definitely.
Was that wise of us?  Probably not.  After all, I had struggled with work to be able to go the first time.  Then, during the same month of the trip, I had the chance to go to an Obama White House holiday party.  Would I be able to do both?  I assumed that I would for some crazy reason.  In hindsight, everything worked out and worked out easily.  It wasn't anything like the struggle I had in May to be able to go.  Was I lucky?  Beyond.  It almost felt like it was meant to be.
What lesson did I learn from this trip?  The message I received, I think, is that, at times, I just have to go with my gut.  I shouldn't think everything to death or assume that it cannot or should not happen.  When there is an opportunity for something amazing, I gotta go with it.  I am all for having responsibilities and being responsible, but…  (Seriously, people who know me know that I'm hyper responsible.  Is that from teaching for over 20 years?  Maybe.  Campaigning for political candidates?  Possibly.)  Was it super weird for me not to think about my obligations?  Yes, but it is good for me–not only to be able to enjoy some crazy good times but also to let myself live a little.
Both trips meant a great deal to me.  On the first trip with the canceled shows, I gained an insight into the band and my fandom that I would not have had otherwise.  Rhonda and I had to make the best out of an extremely disappointing situation.  While I don't know that I would say that it was the most fun, it was the most eye-opening.  The extra time meant that we could walk around Birmingham and get a real sense of where the band came from.  That humanized them in a way that I didn't think possible.  They were no longer just celebrities but people, humans.  This idea was reinforced by seeing them outside of their studio when they were open about the situation and how they were feeling about it.  I felt honored to have been there.
Fast forward almost 7 months later and the dream was finally fulfilled.  We got to see the band play in their hometown.  I still get goosebumps just thinking about it.  While the show was not the best I had ever been to, it was monumental to me.  As a kid, I remember thinking about how exotic Birmingham sounded to me.  My family was not well off and any vacations we took typically took us to a nearby state, if that.  We never traveled by plane (I took my first flight at 17!) and I didn't know anyone who went overseas.  So Birmingham sounded so unusual to me.  I couldn't even imagine what it was like and I never expected to find myself there once, forget about more than once.  What did I discover about the city?  It really felt like a lot of the industrial northern cities here do.  As someone who grew up in the south side of Chicago, it felt almost familiar.  I realized that I actually liked it and would love to spend more time there, which is not what I expected at all.
Six years have gone by.  My fandom grew stronger from those trips.  One thing is certain.  I'll hold on to those memories for the rest of my life.
-A