It is Thursday, and my friends…it has been quite a morning.
I dutifully programmed the DVR to record the Today Show, because like most of you, I had other requirements that took me away from my television this morning while the Paper Gods took over the Today Show.  As a result, I spent the time between 7:30 and 10am in traffic, dropping my youngest off at school, and explaining to a fellow parent at said school that no, my son…who is 16…is not my husband. Nor is he the father of my youngest for that matter.  (Yes, that really WAS quite the awkward conversation, actually.)
So, as I raced back home, there was one thought on my mind: watching the Today Show in PEACE!  The good thing about the DVR is that I was able to speed through the sections of the show that were quite frankly, of zero interest, and get to the good stuff!  I stood in front of the television, remote in hand, as the camera would scan the crowd and marveled at how many familiar faces I saw in the audience. Man, do Duranies ever get around, I must say!!  There were so many there, and I have to admit that I was almost more excited about seeing fellow fans than I was the band!
I watched as the band played a teensy bits of Notorious and Save a Prayer before cutting to my local news update (who really CARES about traffic and weather anyway?!?).  Then I saw Savannah Guthrie embarrass herself as she called the new album Paper Goods (I'd have been flustered up there too, but then – I write. I don't actually speak on camera for a living, and there's good reason for that.)  The band played Hungry Like the Wolf and about half of Pressure Off before once again cutting to my local news. Completely annoying. It's a shame that they didn't cut Hungry Like the Wolf because that's the song everyone knows, but naturally – that's the way TV works. They're going to cut the song that is less recognizable. This of course had nothing to do with the band at this point, because I was watching on the West Coast, and the Today Show isn't even live here. By then, it's just videotape, and edited at that. I'm pretty sure I saw songs out of the order that the rest of the country saw them in. (Yeah, we might have nice weather while the rest of the country is neck-deep in snow, but we definitely don't have live morning TV or awards shows!)
Last Night in the City was about the only song that was shown completely intact – and with Kiesza sharing the stage with Simon, which was great! There was only one slightly off-moment during that song, and it was when Kiesza got down on her knees in front of Simon. I was happy to see Simon have the good sense to get on his knee as well, because otherwise, it would have just looked awkward.
Lastly, I saw Ordinary World during the Hoda/Kathy Lee show, which also great, although Simon seemed to strain quite a bit during parts of the song – I'm giving him a free pass on that simply because it had to have been done pretty early in the morning. It looked and sounded like it was early, anyway.  Thankfully, the powers that be allowed that song to go through to the end, and then Hoda and Kathy Lee mentioned that they enjoyed going back to the 80's. Well, Hoda and Kathy Lee, that's lovely, but that particular song was released on December 2, 1992… Fact-Checking:  kind of important.
The best part of my day? Social media has been completely taken over by photos of Duran Duran at the Today Show. I LOVE IT!!  I love seeing all of the photos of my friends who were there…lo and behold, even Daily Duranie was represented!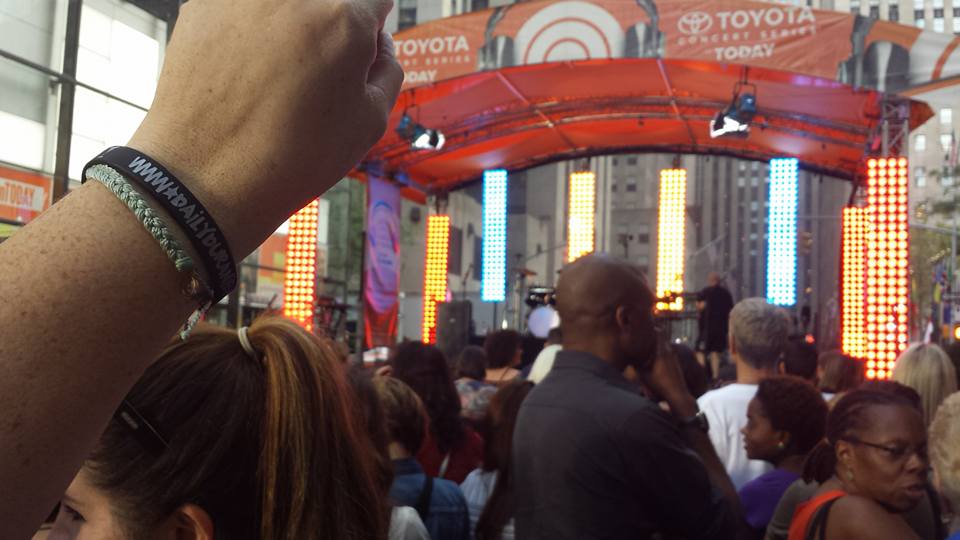 I'm having so much fun seeing everyone with their photos and reading the experiences that everyone is having,  this is really the best part of a new album being promoted…and we have much more to come!  If you're not already getting our blog by email, I encourage you to sign up, that way you'll never miss a single post!
-R