I apologize for writing today's blog post so late.  I decided to let myself ease into the day during the morning.  This afternoon has been focused on grading.  Writing the blog is my break.  Before I started to write, I took a glance at the latest Duran tweets.  Today, they posted about this date two years ago when the band met fans at the J&R Music Express in New York City.  Obviously, this meet and greet, of sorts, was to advertise, promote their Paper Gods album.  CD signings are nothing new in Duranland.  After all, I can think of ones that took place during Astronaut and even during Thank You, just to name a couple.
I was lucky to have attended one myself in 2007 as the band was promoting Red Carpet Massacre.  I have fond memories of that experience.  It took place in a Best Buy in Chicago in the evening.  Immediately, after work, my friend and I booked it down to Chicago to then wait in line for a couple of hours in the cold as it was December.  Looking back, I assume that we had to wait in line because there was some fear that we wouldn't make it to the front before the event ended.  Nonetheless, the time went by relatively quickly as I spent a lot of time talking to other Duranies there.  Then, I remember talking to Rhonda on the phone once inside.  In fact, we were on the phone when I reached the front.  I was trying to be so chill that I wasn't prepared.  Therefore, my cd wasn't even open, possibly holding up the line.  EEK.  Katy said something to me about procrastinating as a kid with my homework, which caused me to laugh and confess my current profession as a teacher.
Finally, I was in front of the band.  Simon was first and clearly wanted to assist me in taking the plastic wrapper off the cd as he said, "Just give it to me."  Shockingly enough, my stubborn self replied with, "That's okay.  I've got it."  Perhaps, my stubbornness was not appreciated.  Who knows?!  Then, I only exchanged pleasant greetings with Nick and Roger before finally getting to John.  I wanted to mention to him about my participation in a campaign of sorts that had taken place the previous summer by members of the Church of the Bass God (COTBG), a popular thread on John's board on DuranDuranMusic.  The campaign involved sending silly socks to John after we noticed that he had been wearing bright socks in concert.  Looking back on this, I have to laugh.  Even then, I took note of his concert clothing.  Anyway, members of the COTBG sent socks for his birthday and I participated in sending James Bond ones.  John was kind enough to send pictures of himself and the socks back to the COTBG members.  For some reason, it really mattered to me that he know that I was the one with the Bond socks.  Ah, fandom.  Here is the picture of John with the socks I sent.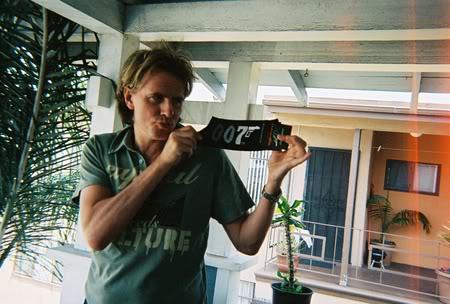 Obviously, I was not able to attend the cd signing in New York City two years ago, but I generally think they are a good idea.  They provide fans a chance to meet their favorite band, have a chance to exchange a few words and get a personalized autograph.  I like that they are in controlled settings.  It is not as insane as seeing the band after a show or in a public place.  No, fans there know that they will all have their opportunity and the band knows that the fans will be in a line asking for a autograph and that's it.  Seems to be a win win situation for both fans and the band.  Personally, I hope they do more in the future.
What do the rest of you think?  Have you attended a cd signing?  How did it go?
-A